19 Mar

Lindy Baker-Unnormal Paranormal | Podcast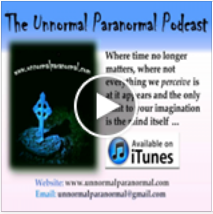 Lindy Baker was born psychic. Some people might think that would mean a blessed and easy life. But the reality is she did not know her mind thought differently than others'. In this episode Lindy Baker-Unnormal Paranormal podcast Lindy talks about her revelations about her life, her experiences, and why she believes as she does.
Lindy is an Educator and loves to entertain. Listen to this episode to peek into Lindy Baker – Unnormal Paranormal Podcast and you are sure to be given a lot to think about.
The Unnormal Paranormal podcast is hosted by Jeffrey Chavey of Pennsylvania:
"We speak to psychic and Life Coach Lindy Baker about her services and some important revelations she has for an upcoming event that will affect not only the United States but the world at large, the 2016 presidential election." Jeffrey Chavey
(This podcast containing Lindy's guest appearance was recorded on June 21, 2016.)
Psychic revelations at ages 7 and 15.

Holograms vs. Ghosts

Angels and Evil Spirits

What is a P.E.E?

Religious vs. non-religious beliefs

Election 2016

Lotto Number truths

What is Mind Magic?

and much more…
TO BE TAKEN TO THE PODCAST –   CLICK HERE
---
BUY A READING SESSION HERE
Lindy Baker, M.Ed., C.E.C.P., Clairvoyant Life Coach, "Top 10 Psychics" Globe Magazine, "Favorite Psychic Medium" About. com, WB5 News San Diego CA, "The Best", Public Service Award Stark Co. Prosecutor's Office
Lindy Baker is an American world-renown, Gifted Clairvoyant & Life Skills Coach (psychic), Spirit Medium and Messenger.
New Service! Lindy is a Certified Emotion Code Practitioner.  Whether you're struggling with relationship questions and issues or career and business decisions, you'll benefit from talking to Lindy. Call/Text (858) 272-6463. Testimonials and other information are available at  LindyBaker.com
Copyright © Lindy Baker. All rights reserved.